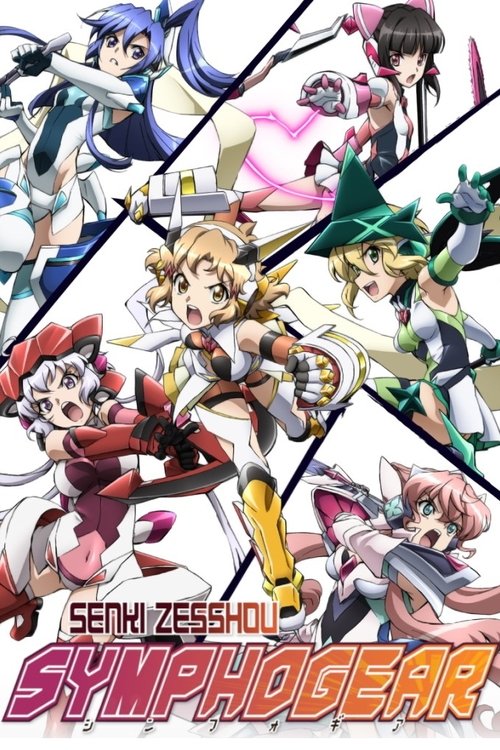 During a concert by idol group ZweiWing, an alien force known as the Noise attack the stage. Group members Tsubasa Kazanari and Kanade Amou suppress the attack using their Symphogear armor, but despite their best efforts, innocent bystander Hibiki Tachibana is fatally injured. Distraught and much to Tsubasa's dismay, Kanade sacrifices herself in the process to save Hibiki. Two years later, Hibiki lives on. Tsubasa now fights alone. With the threat of the Noise increasing, Hibiki finds herself encountering the Noise once again but this time she is granted a chance to become attuned with the same Symphogear that Kanade wielded.
Title
Symphogear
Original Title
戦姫絶唱シンフォギア
First Air Date
December 26th, 2011
Last Air Date
September 29th, 2019
Genres

Animation

,

Sci-Fi & Fantasy

Network
Tokyo MX
Production Company

Encourage Films

Number of Seasons

5

Seasons
Number of Episodes

65

Episodes
Plot Keywords

music

,

singing

,

anime

,

mahō shōjo


Shirabe Tsukoyomi (voice)


Maria Cadenzavna Eve (voice)





Senki Zessho Symphogear GX
Senki Zesshô Symphogear GX
Senki Zesshou Symphogear 5
Senki Zesshou Symphogear XV
Senki Zesshô Symphogear G
戦姫絶唱シンフォギアGX Believe in justice and hold a determination to fist.
戦姫絶唱シンフォギアXV / 戦姫絶唱シンフォギア 第5期